General
The EQ-i 2.0 is one of the most scientifically validated Emotional Intelligence instruments on the market today. This instrument measures the interaction between a person and his or her environment, then presents results in both numerical and graphical form. The power of this instrument is in how the five Composite Scales and fifteen Subscales (see below) allow an EI feedback specialist to predict with amazing accuracy what behaviors a person is most likely to exhibit and to pinpoint the motivations behind the behavior.
The EQ-i 2.0 model below shows how five Composite Scales and fifteen Subscales interact to predict behaviors. The circular nature of the model is a visual representation of how each area of Emotional Intelligence influences the next.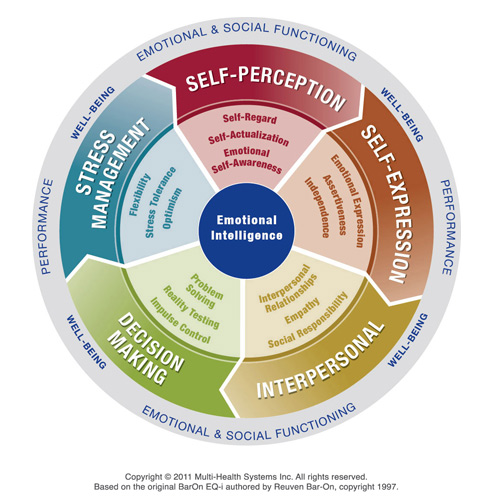 As a result of completing the EQ-i 2.0, a person receives specific, measurable results that allow him or her to identify and leverage strengths and to put containment on any out-of-balance areas that could interfere with his/ her ability to fully access strengths.
---
Takeaways
Identifies strengths
Identifies strengths
Results presented in easy-to-read bar graphs
Focused on personal development
Promotes greater organizational effectiveness
Excellent selection tool
Excellent succession planning tool
Great for developing leaders
Business-Centric Report
Applications
Leadership development
Individual development
Organizational development
Organizational development
Team effectiveness
Succession planning initiatives
Executive and general coaching
Performance management
Student development (higher education)
Report Options
Workplace Report
EQ 360 Report
Leadership Report (Coming Soon)
Group Report (Coming Soon)
Higher Education Report (Coming Soon)
Report Features
The EQ-i 2.0 Workplace Report is customizable with your company or client logo and includes many helpful resources for the feedback provider, including:
Follow-up questions for each Subscale
Debrief Guide for conducting a feedback session
Action Plan template
EI Development Commitment
Balancing EI section
---
Quick Facts
Age Range:
18 and older
Administration Time: 
20-30 minutes
Number of Items
133
Format(s) 
Online EQ-i 2.0 Portal for quick and easy administration scoring and more
Norms (link)
General Population
Age and gender specific
Qualification Level:
B (North America Only)
Q-i certified