EQ-i 2.0 and EQ 360 Certification Workshop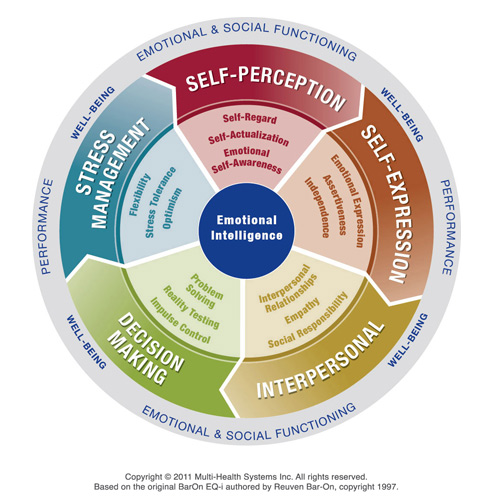 General
The EQ-i 2.0 Certification Workshop prepares you to administer and interpret the EQ-i 2.0 and EQ 360 assessments, provide feedback on the results. In the long run, you will be able to teach an EQ class. What is the importance of Emotional Intelligence? Click here.
Why Choose Center for Emotional Development for your EQ-i Certification
For over eight years, we used the EQ-i family of assessments with hundreds of participants and has been a leading provider of EQ-i certification for many years. The Center brings an innovative, high-tech approach to certification while providing in-depth knowledge, experience and friendly service.
CESD Special Features:
 Taught by EQ-i 2.0 Certification Experts
 Rupert A. Hayles, Jr. and Maryann Hayles are Lead Instructors
 CESD EI for profit and non-profit Research
 Real-World Experience and Applications of EQ-i 2.0, including:
 Relationship of EQ-i to Other Assessments
 Use of EQ-i in Selection Models and Success Profiles
CESD uses a team approach for conducting our EQ-i 2.0 Certification courses. Classes are facilitated by a team of EQ-i 2.0 experts, with over a decade of combined EQ-i experience, to offer a dynamic and interactive training model for our participants.
Takeaways
 Certification on EQ-i 2.0 and EQ 360
 Personal EQ-i 2.0 Feedback Session and Report
 EQ-i 2.0 User's Handbook (accessible online)
 The EQ Edge by Dr. Steven Stein and Dr. Howard Book
 Emotional Intelligence and the Church by Rupert A. Hayles, Jr. (optional)
 Numerous articles and handouts
 Free administration of the EQ-i 2.0 and EQ 360
 Membership in a large, growing international EI network
Applications of EQ-i 2.0 and EQ 360
CED trainers share best practices, examples and case studies of how EQ-i 2.0 and EQ 360 can be used in various applications, including:
Selection
Learn why just administering the EQ-i 2.0 is not enough and how to use EQ-i 2.0 as part of a comprehensive selection process, including the creation of success profiles and structured interview questions.
Leadership Development
Studies show that high-performing leaders tend to have higher Emotional Intelligence than their peers. Learn what this really means and how an organization can help its leaders excel in EI.
Sales Training
Research shows that sales people with higher EI tend to outperform their peers. Learn how to use EQ-i 2.0 and EQ 360 to create quality sales training with direct impact to revenue.
Coaching
Learn how to create a coaching plan based on EQ-i 2.0 results, using feedback, development and Action Plans that work.
Use With Other Assessments
Find out how EQ-i 2.0 can be used in combination with other assessment tools to create high-impact consulting and assessment solutions for clients.
Education
Research shows that EQ-i 2.0 can predict student success. Review case studies and hear examples of how EQ-i 2.0 can be used as a development and feedback tool to help students succeed.
Instructors
The lead instructor for these sessions is Rupert A. Hayles, Jr. Founder and President of the Center for Emotional Development, and author of numerous books and articles on Emotional Intelligence, strategy and leadership. Rupert is the process of completing research at Regent University focusing on creating tools and techniques for the for profit and social sector organizations.
The training team also includes Maryann Hayles, David Ward, Edna Ward and Stephen Deaver.
Certification Options
Workshop
The EQ-i 2.0 Certification Workshop will prepare you to administer, interpret and provide feedback on both the EQ-i 2.0 and EQ 360 results. This three-day workshop (includes one day of pre-work) has a pace that is quick, interactive and loaded with skill development activities.
LIVE Online Certification
Save time, travel expenses and more by attending CED's LIVE online videoconferencing feedback, certification workshops and training from the convenience of your own computer. Interact with your instructors and other participants in real time during these sessions.
Live online sessions use GoToMeeting® videoconferencing technology (PC & MAC compatible) and include the same content and benefits of an in-person workshop without the hassle, time and expense of travel. Using live webcams, participants are able to interact with each other and instructors.
Audio Details: Participants have the option of using Voice Over IP (VOIP) or dialing in to the session on the phone. We highly recommend using VOIP with a headset and microphone. (Participants are responsible for any long distance phone charges incurred if dialing by phone.)
Video Details: Participants are requested to use a webcam so all participants can see each other during the session. The CED instructor team uses webcams during the training so participants can see and hear them in real time.
In-House Certification
If you prefer in-person certification, contact us at to discuss options for an in-house class at your location or about attendance at a class in the New York/New Jersey area.
EQ-i 2.0
EQ 360
EQi Course Outline
Importance of EI
Member Coaching Program
1
January 25th and 26th, 2021
M&T
EQi CERTIFICATION
Online Virtual Class
Closed
Rupert Hayles, Maryann Hayles
2
March 29th and 30th, 2021
M&T
EQi CERTIFICATION
Online Virtual Class
OR
Hyatt Regency
DFW International Airport, 2334 N. International Parkway, DFW Airport, TX 75261
Closed
Rupert Hayles, Maryann Hayles
3
June 24th & 25th, 2021
Th&F
EQi CERTIFICATION
Pillar College
60 Park Place, Suite 701, Newark, NJ 07102
OR
Double Tree by Hilton
Des Moines International Airport, 6800 Fleur Drive, Des Moines, IA 503211
Open
Rupert Hayles, Maryann Hayles
4
July 22rd & 23th, 2021
Th&F
EQi CERTIFICATION
Pillar College
60 Park Place, Suite 701, Newark, NJ 07102
OR
Double Tree by Hilton
Des Moines International Airport, 6800 Fleur Drive, Des Moines, IA 50321
Open
Rupert Hayles, Maryann Hayles
5
August 23rd  & 24th 2021 M&T
EQi CERTIFICATION
Pillar College
60 Park Place, Suite 701, Newark, NJ 07102
OR
Hyatt Regency
DFW International Airport, 2334 N. International Parkway, DFW Airport, TX 75261
Open
Rupert Hayles, Maryann Hayles
6
September 23rd & 24th 2021 M&T
EQi CERTIFICATION
Pillar College
60 Park Place, Suite 701, Newark, NJ 07102
OR
Hyatt Regency
DFW International Airport, 2334 N. International Parkway, DFW Airport, TX 75261
Open
Rupert Hayles, Maryann Hayles
7
November 18th and 19th, 2021 M&T
EQi CERTIFICATION
Pillar College
60 Park Place, Suite 701, Newark, NJ 07102
OR
Hilton Chicago O'Hare Airport
10000 West Avenue Chicago, IL 60666
Open
Rupert Hayles, Maryann Hayles